Delkin SensorScope With Carrying Pouch
MFR# DDSSSINGLE2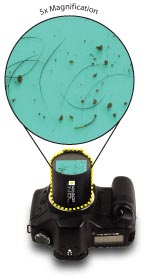 Check your DSLR sensor in seconds. The SensorScope is an innovative patent pending device that allows the photographer to look into the camera chamber and inspect the image sensor.

The SensorScope's 5x-magnified lens provides an enhanced view of the CCD or CMOS sensor surface, while four ultra bright white LED bulbs provide total focused illumination of the sensor and sensor chamber. The four ultra bright white LED bulbs are aligned precisely to provide a glare and shadow free view of the DSLR sensor. The 5x-magnified lens is completely enclosed within the SensorScope body, providing a clean focused view every time without the need for constant polishing or fear of scratches. Furthermore, the compact size of the SensorScope fits easily into any camera bag for convenient portability.

The SensorScope's truly innovative design makes inspecting any sensor safe, easy and effective. The SensorScope looks like a camera lens; however, it allows you to look back into your camera to inspect your sensor. Thanks to the universal mount, the SensorScope is compatible with all DSLR cameras without the use of adapters or accessories. It sits flush with the camera's lens mount, keeping it at the ideal distance from the sensor for accurate focus.

The individual SensorScope comes complete with a deluxe padded lens-like case with an additional zip-off compartment for carrying additional cleaning supplies.
Free Shipping
*Purchases over $50