New England's Imaging Equipment Leader
You'll be ready to start shooting as soon as you leave the store when you purchase your camera at Hunt's Photo and Video. As New England's premier imaging retailer, we make sure every customer feels comfortable with his or her purchase and is confident in its use. Whether you are a student, hobbyist, enthusiast or professional, Hunt's staff will help you choose the right equipment for your needs.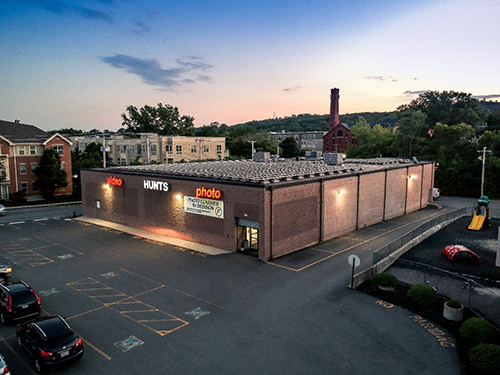 Hunt's Photo & Video Flagship Store - 100 Main Street -- Melrose, Massachusetts
The Hunt's Shopping Experience
Unlike "big box" stores or online sellers, Hunt's makes personal service part of every purchase. Our friendly, knowledgeable staff will assist you in selecting the perfect gear for your individual lifestyle and interests. As a major supplier to the consumer, professional, educational, law enforcement and government markets, Hunt's maintains a well-stocked inventory of photo, video and digital imaging equipment from every major manufacturer so you'll have plenty of options from which to choose. With eight retail locations in four New England states, Hunt's offers an unbeatable combination of competitive pricing, sales know-how, and unparalleled customer service.
Education for all skill levels
In addition to the sale of imaging gear, Hunt's offers an extensive array of educational classes covering a broad range of subjects on photography and videography. Group classes as well as individual instruction are available at most Hunt's retail locations.
Guided photo walks and excursions
To enhance your photo experience. Hunt's provides guided photo walks and excursions throughout the region. Visit our Blog page for a list of upcoming class offerings, photo walks and excursions. https://edu.huntsphoto.com/photo-walks/.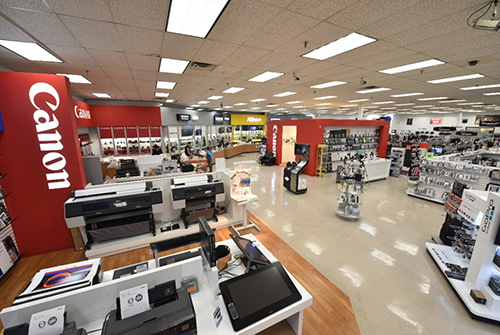 Hunt's Photo & Video Flagship Store - 100 Main Street -- Melrose, Massachusetts
History
Three generations of Farber family ownership have established Hunt's as a trendsetter in the imaging equipment industry. Begun as a pharmacy in 1889 and acquired by pharmacist Solomon Farber in 1952, Hunt's began building its camera business during the 1950s under the visionary leadership of Solomon's son, Jack. As interest in photography grew, Hunt's began shifting its emphasis from the pharmacy business to the business of cameras and accessories. By 1993, imaging equipment became Hunt's primary focus.

Led today by Jack's sons, Scott and Gary, Hunt's proudly serves a diverse audience of individual, corporate, educational, law enforcement and government clients as one of the country's largest retailers of photo, video and digital imaging products. Visit Hunt's 30,000 square foot flagship store at 100 Main Street, Melrose, or one of its satellite locations in Boston, MA - Cambridge, MA - Hanover, MA - Holyoke, MA - Providence, RI - So. Portland, ME - or Manchester, NH to discover how Hunt's Photo and Video can help you create your own picture-perfect experience. Click here for directions, store locations and hours of operation.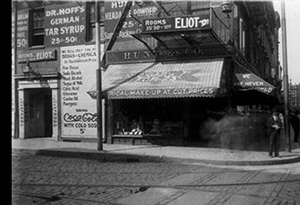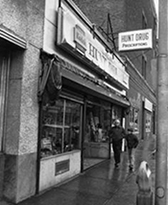 Hunt & Co.,Boston, MA Circa 1904Hunt Drug Co., Malden, Mass, Circa 1970
Caring for the Community
Hunt's Photo & Video maintains a strong commitment to the community that dates to its beginnings as a neighborhood pharmacy. After more than a century in business, the company and its management team are proud to support dozens of local and national organizations. Hunt's generous contributions lend valuable assistance to charitable, nonprofit and community organizations of every size and interest with a local emphasis on photography centric nonprofits. Regional and national supported nonprofits including;
American Cancer Society
Dana-Farber Cancer Institute
Essex National Heritage Commission
Juvenile Diabetes Research Foundation
National Center for Missing and Exploited Children
Greater Boston Chapter of the Spinal Cord Injury Association
Awards
Massachusetts Retailer of the Year for 2011 by the Retailer's Association of Massachusetts

Hunt's Photo & Video is a New England institution. The former Malden pharmacy has grown into the region's largest and most successful digital imaging equipment retailer with eight stores in four states and a reputation for excellence that spans more than a half century. Additionally, Hunt's serves some 85,000 hobbyists, enthusiasts, and pros nationwide.

Hunt's Photo & Video Named E-tailer of the Year for 2013 by Digital Imaging Reporter

Digital Imaging Reporter recently named Hunt's Photo & Video of New England as its inaugural E-tailer of the Year for 2013. Citing the firm's high level of integration between its physical locations and numerous Internet retail portals, the publication revealed that the company's online shopping experience outperformed many of its competitors. According to DIR, the award decision was heavily influenced by the fact that the firm has a clearly defined focus on satisfying online consumers. In addition to catering to those who prefer to use shopping venues like eBay and Amazon, the company has worked to make a seamless transition between its web presence and its in-store branding.
Associations and Affiliations
Member of Mass Access
Member of The Imaging Alliance
Member of Several Chambers of Commerce
Member of Retailers Association of Massachusetts
Member of the National Professional Videographers Association
Member of Connecticut, Maine, Massachusetts, New Hampshire, Rhode Island and Vermont Professional Photographers Associations