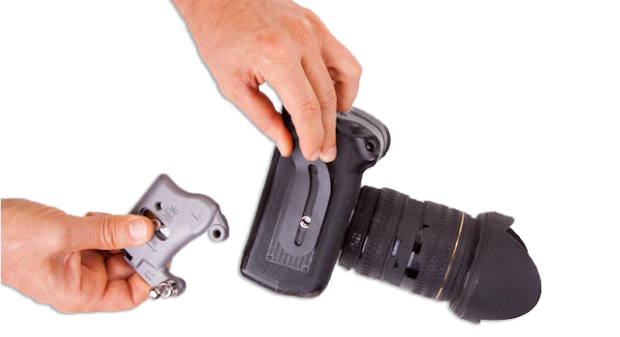 THOUGHTFULLY DESIGNED
The camera slot connection is carefully designed and crafted from proprietary materials that allow BOTH a sound connection to the camera body (so you can slide your hand in/out) and flexibility so you can reach your camera's back controls.
CURVED SHAPE
The SpiderPro Hand Strap's unique "S" is the only strap designed to allow clear access to the battery door and memory card slots.
SUPERIOR SUPPORT
The SpiderPro Hand Strap's combination of design and materials provides real weight support in the correct place on your hand: over and above your knuckles, and close to your wrist. The curved shape also positions your hand in a perfect shooting position (45 degrees to the camera body) allowing you to reach the trigger and all other controls.
MAXIMUM COMFORT
Our proprietary hand strap materials, including genuine leather, "remembers" and curves to the shape of your hand, providing a high degree of functionality – especially important for users with camera bodies without a vertical grip. High-quality memory foam on the inner side of the strap provides greater comfort over longer periods of time.
WRIST STRAP INCLUDED
Our hand strap ships with an optional leather wrist strap. Snap on the wrist strap for extra support and security when you need it.