Now you can improve the composition and sharpness of your photographs with the all NEW McClamp from FM Photography. The CLAMP mounts to a variety of items including table edges, tripod legs, and fences and is a popular tool for backyard, indoor or studio work.
The McClamp provides better composition with more control of your subject, helps to eliminate wind effect for improved sharpness, and will act as an assistant by holding gray cards and reflectors for you.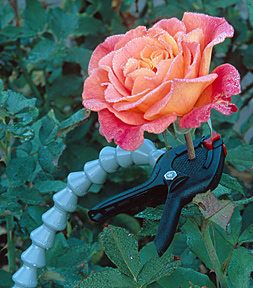 Features and Benefits
Holding clamp with two surfaces: Firm plastic outside jaws for a strong hold and inner neoprene jaws that will not damage delicate subjects.


26" flexible articulated arm moves to any position and remains stiff

New patent pending stiffer Flexible arm makes it the only product of its kind capable of holding a 12" reflector.

Includes nylon carrying bag to protect camera and lenses in your camera pack.

The design is compact and lays flat in your camera bag and has a loop for outside attachment.

The flexible arm is designed to pop-apart if you bend apart an individual segment. this allows you to add McClamps together to create longer segments, if needed.