EOS 7D Digital SLR with 18-135mm f/3.5-5.6 IS USM Standard Zoom Lens
A Whole New Class of EOS.
With a host of brand new features designed to enhance every facet of the photographic process, from still images to video, the new EOS 7D represents a whole new class of camera.

Made to be the tool of choice for serious photographers and semi-professionals, the EOS 7D features an all-new 18.0 Megapixel APS-C size CMOS sensor and Dual DIGIC 4 Image Processors, capturing tremendous images at up to ISO 12800 and speeds of up to 8 fps. The EOS 7D has a new all cross-type 19-point AF system with improved AI Servo AF subject tracking and user-selectable AF area selection modes for sharp focus no matter the situation. The EOS 7D's Intelligent Viewfinder, an entirely newly-designed technology, provides 100% coverage and displays user-selected AF modes as well as a spot metering circle and on demand grid lines. New iFCL Metering with 63-zone dual-layer metering system uses both focus and color information to provide accurate exposure even in difficult lighting. The EOS 7D also captures Full HD video at 30p (29.97 fps), 24p (23.976 fps) and 25p with an array of manual controls, including manual exposure during movie shooting and ISO speed selection. The EOS 7D features a magnesium alloy body that is dust- and weather-resistant and shutter durability of up to 150,000 cycles. Compatible with over 60 EF and EF-S lenses as well as with EOS System accessories, the creative opportunities - not just with stills but also with video - are beyond amazement.

18.0 Megapixel CMOS Sensor and Dual DIGIC 4 Image Processors for high image quality and speed.
The EOS 7D features a Canon-designed 18.0 Megapixel APS-C size CMOS sensor that captures such a high level of resolution it's easy to crop images for enlargement without concern of losing detail. A major factor in reducing noise, the CMOS sensor assures that images shot at highest sensitivity will be remarkably smooth. Dual DIGIC 4 Image Processors ensure that images are captured, processed and saved with remarkable speed. The EOS 7D's ability to capture and process data of images shot at 18.0 Megapixels at 8 fps, as well as Face Detection Live Mode, Full HD video recording, Auto Lighting Optimizer and Lens Peripheral optimization are all possible thanks to the Dual DIGIC 4 Image Processors.
Low Light Excellence
ISO 100-6400 (expandable to 12,800) for shooting from bright to dim light.
With a broad range of ISO settings, the EOS 7D enables shooting from dawn through dusk and ensures capture of the finest detail. With enhanced, low-noise high-sensitivity optimization, shooting in situations previously possible only with flash becomes as simple as point and shoot.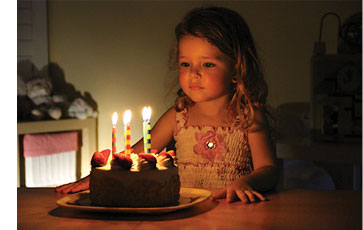 8.0 fps continuous shooting up to 126 Large/JPEGs with UDMA CF card and 15 RAW.
Capable of shooting up to 126 Large/JPEGs with a UDMA CF card and 15 RAW at 8 fps, the EOS 7D is a perfect camera for action. Canon's remarkable shutter, combined with speedy, sophisticated electronics, ensures instant response and performance. A rapidly-occurring scene can be captured moment by moment, second by second, so that even the briefest of opportunities are captured in perfect clarity.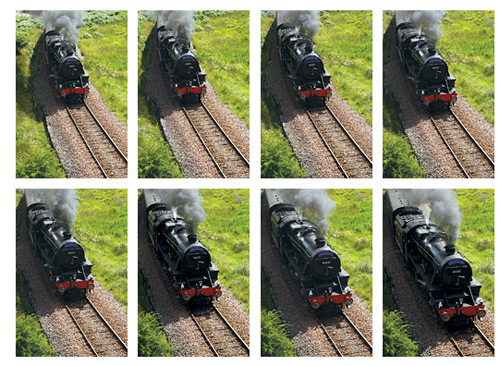 HD Dreams Come True
Advanced movie mode with manual exposure control and selectable frame rates: 1920 x 1080 (Full HD): 30p (29.97) / 24p (23.976) / 25p, 1280 x 720 (HD): 60p (59.94) / 50p, 640 x 480 (SD): 60p (59.94) / 50p.
Boasting the most advanced EOS movie capturing features to date, the EOS 7D does not just shoot video clips, it offers the enhanced image quality, smooth frame rates and adaptive exposure compensation necessary in a professional movie-making tool. By shooting video with a large sensor camera, it's simple to take advantage of the image characteristics intrinsic to SLR photography and not necessarily to video cameras. In addition to a number of different recording size and frame rate modes, the EOS 7D enables easy manual control of exposure, focus and Live View features and even allows for in-camera editing. The large CMOS sensor and compatibility with over 60 lenses provide a wealth of depth-of-field options. And it's all as easy as the press of a button - the EOS 7D has a dedicated Live View/Movie Recording lever with a start/stop button that gets the shooting started fast.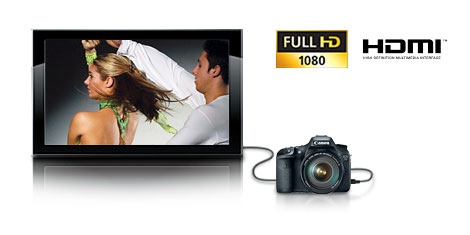 Three Recording Sizes
Full HD Video is captured at 1920 x 1080 resolution at 30p (29.97), 24p (23.976) or 25p frames per second, for up to 4GB per clip. Movies are saved as .MOV files and can be viewed in Full HD with HDMI output. Other recording sizes include HD at 1280 x 720 (50p/60p (59.94) fps) or SD/VGA at 640 x 480 (50p/60p (59.94) fps).
Spectacular eye-level view.
Intelligent Viewfinder with 100% field of view, wide viewing angle of 29.4°, high magnification of 1.0, intelligent viewfinder with glass pentaprism and an overlaid LCD display in viewfinder supports various shooting styles.
The EOS 7D features a phenomenal redesigned viewfinder that not only offers 100 percent coverage, 1x magnification, a 29.4° angle of view and user-controlled dioptric adjustment, it also features a newly-designed transparent LCD display which enables a number of viewfinder displays to be overlaid at the touch of a button. Whereas with other cameras the representation of AF points and metering areas are static, with the EOS 7D, they can be displayed, adjusted and hidden, in camera, with ease. This means less distraction and more clarity to view the image in its entirety. Display options include: grid, spot metering, AF points display, hide all, zone AF, spot (single-point) AF, AF point expansion and Dual Axis Electronic Level display.

The EOS 7D even features a brilliant new Dual Axis Electronic Level and tilt display that aids in achieving perfectly level shots, displaying both roll and pitch in 1° increments, either in the viewfinder or on the LCD.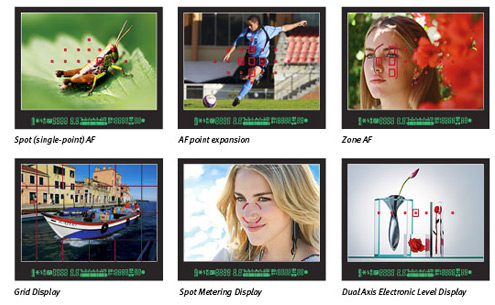 Faster, More Accurate AF
New 19-point, all cross-type AF system equipped with dual diagonal cross-type sensors in center at f/2.8 and f/5.6 and AF area selection modes to match various shooting situations.
Canon packed its most advanced technologies into the EOS 7D's AF system. With 19 high-precision, cross-type AF sensors, any of which can be selected automatically or manually, the EOS 7D is equipped to handle even the trickiest of focus situations with ease. The high-speed microcomputers in the EOS 7D use advanced algorithms that help ensure the fastest, most accurate AF performance under the widest variety of conditions. In addition, Canon's Light Source detection AF automatically compensates the focus by taking into account artificial lighting sources and making appropriate adjustments and the EOS 7D's new Intelligent Macro focusing tracks the object or the camera's movement when shooting close-up, to ensure focus is never lost. AF modes can be customized to suit the situation, ensuring reliable focus, every time.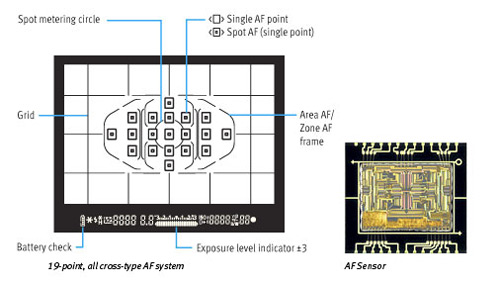 More Information Ensures Accurate Exposure.
iFCL Metering with 63 zone dual-layer metering sensor that utilizes AF and color information for optimizing exposure and image quality.
The EOS 7D features a new, 63 zone dual-layer sensor designed to complement the 19-point AF system. By taking into account the color and luminosity surrounding chosen AF points, this new system delivers an entirely new level of accuracy for better results even in difficult lighting situations. Since the metering sensor has a color measurement function, exposure errors and focus errors caused by different light sources are minimized; the EOS 7D gives stable exposure from shot to shot in situations where light changes, such as in a theater or concert hall. This makes the EOS 7D ideal for scenes with extreme difference in brightness such as brightly lit scenes or backlit scenes; the camera balances exposure of the main subject at the background, and exposures are not overly influenced by bright areas in the shot.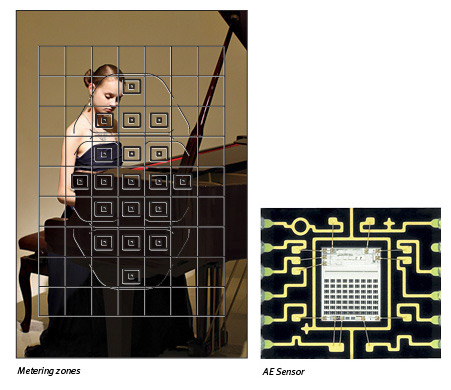 Magnesium body with shutter durability up to 150,000 cycles and exclusive dust and weather resistance.
The EOS 7D is constructed of the highest quality materials, to exacting standards to ensure unfettered performance at all times. For example, the shutter can shoot at speeds up to 1/8000 sec. for 150,000 cycles; the chassis is built of lightweight and rigid magnesium, and the camera's seals are built to resist water and dust. This combination makes the EOS 7D ready for anything.