Features and Benefits
Handheld photography is quick and easy.
Camera access and ease of use is possible with the Shutter Hat attached.
The camera straps fit through the slots allowing proper camera position when carrying the camera.
The lens can be zoomed through access under the ShutterHat.
The controls and camera back are easily accessible.
Perfect for light rain protection and spontaneous shooting.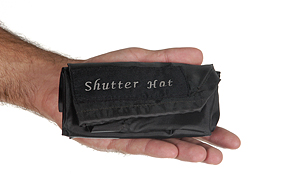 The ShutterHat is a camera cover that keeps the camera dry while allowing you to access all the camera controls. It is compact, lightweight, easy to install and stable on the camera. It's perfect for light rain, snow, and blowing debris.
Landscape photographers, photojournalists, and travel photographers can now carry camera protection for inclement weather conditions. The Shutter Hat slips in your pocket or clips to your belt giving you a lightweight hassle free accessory that protects your camera during critical shooting situations. Toss the Shutter Hat in your camera bag, it's ready to go.
Walking around town scouting photo opportunities during a drizzle is possible with the Shutter Hat.
Take advantage of dramatic color saturation when it's wet. It's an opportunity many professional photographers don't miss. The Shutter Hat allows hassle-free shooting while keeping your camera dry

Be prepared during Photography workshops and Travel Photography where the date is set but the weather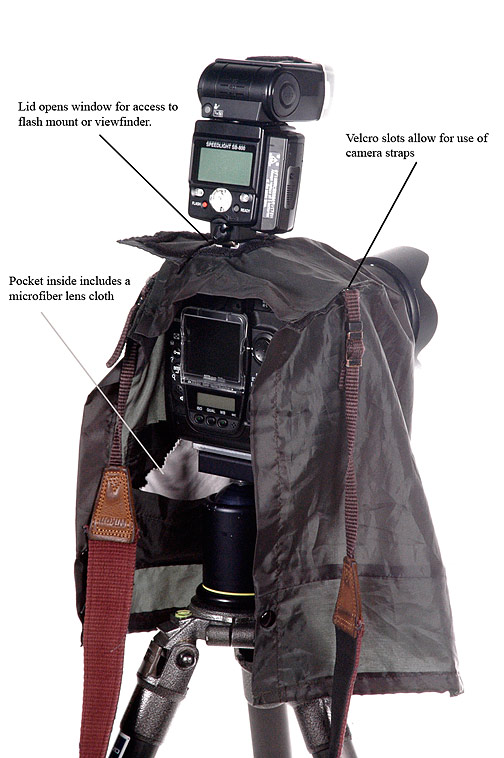 - The inside pocket is perfect for holding flash cards or batteries for quick access.
- Fits lenses up to 8-inches in length!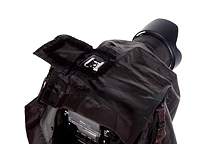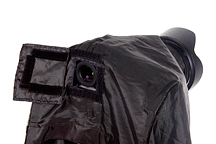 Window on top can be opened for flash access or for eyepiece, depending on placement of the cover.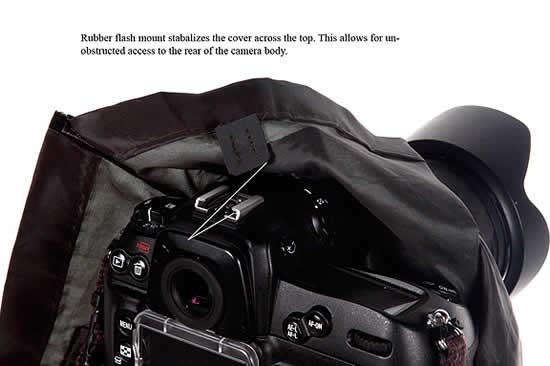 The rubber flash mount allows for a small brim over the back of the camera. This stabalizing feature allows for quick point and shoot access and still moderate coverage of the camera back. A second rubber mount further in allows for more complete coverage of the camera back.