Whether you are photographing on a sandy beach or in a dew drenched field the ShutterHut will protect your equipment and give you a place to work.
Think of the ShutterHut is a mini tent to house your equipment while you're shooting in less-than-ideal conditions. The ShutterHut is made of a durably waterproof nylon which will protect your gear from blowing sand, rain, snow, and harsh sunlight.
The ShutterHut also includes a removable pouch for holding small items such as flash memory cards, film, batteries, and the included metal stakes. When finished, the Shutterhut folds flat to a 12" disc, similar to a reflector, and weighs only 1lb 3 ounces. A carrying bag with strap is included.
Protect Your Gear From the Elements

Sandy Beaches
Dew Drenched Fields
Windy Arid Locations
Wet Lowlands
Falling Snow
High Winds, Blowing Sand
Light to Moderate Rain
Added Security
Features and Benefits

Durable waterproof nylon
Removable pouch for holding small items such as batteries, flash cards or film.
Metal stakes
Instant set-up, 30"x30"x30"
Folds similar to a reflector
Wraps into a 12" disc, weighs 1lb. 3oz.
Carrying bag included with strap

Additional Product Photos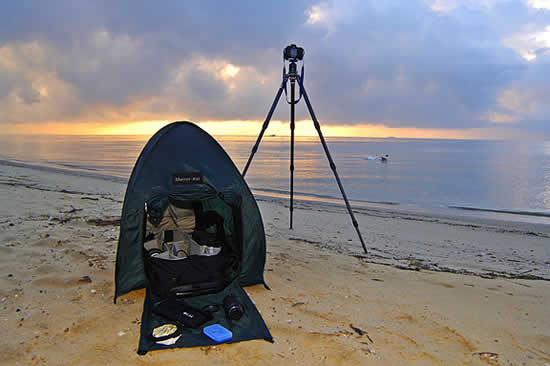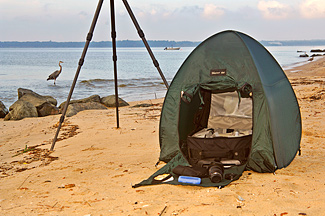 Protect your equipment from wind driven sand and water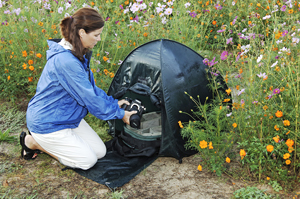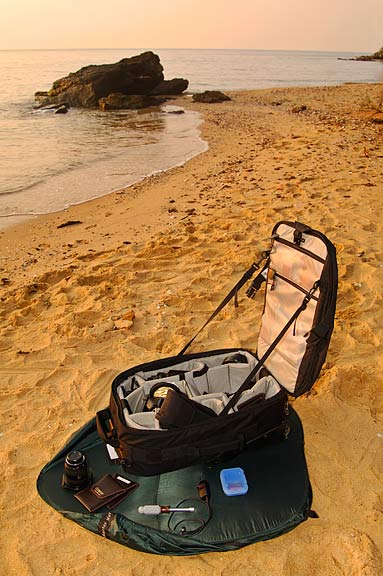 The ShutterHut also lays flat on the ground to protect camera gear from sand, dirt, mud and dampness. It is ideal for giving you a larger work area and quick access to those needed items. Seconds can make the difference in many shooting situations.
Outdoor Portrait work can require a variety of shooting accessories and locations. Use of the ShutterHut in public places gives you an enclosed tent for added security.