Amvona Dynaphos DP-2497 Professional Continuous Lighting Kit
MFR# DP2497K
Dynaphos professional series continuous lighting kit. Includes one light box and stand with extra lamps. Also includes rolling carry case.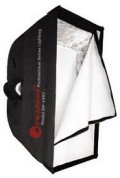 The Softbox eliminates the Hot Spots and distributes Light evenly.
Magna Fabric High heat resistance
Heat Vents can open to allow cool air to circulate, keeping the light bank from overheating. Can also be tented to prevent excess light spill in the studio or opened completely for maximum air flow.
Specifications:
1x Light box
1x Adjustable stand with casters
4x 1000W lamp
Swivel mount
Power cord with in-line on/off switch
Light connector
Protective cover
Louvers
Approx Light Box Size: 24" x 32" x18"
Approx Light Stand Height: Up to 84"(adjustable)
The DynaPhos lighting kit folds down compactly and stores in it's own carry bag for convenient storage and transport.
Free Shipping
*Purchases over $50