Built to put advanced printing technologies into the hands of artists and photographers, the new 60" iPF9100 will help to fulfill your creative potential like never before. With the iPF9100, Canon delivers impressive 60" color output, strength in paper handling and speed in output - everything a professional needs to productively and efficiently create enhanced color materials. The iPF9100 printer is designed to fulfill the needs of any digital artist looking to create captivating images from capture to output. The iPF9100 is equipped with a unique pallet of 12 colors to deliver a broader gamut for greater tonal range and more precise color reproduction. The new ink formulation for Black, Matte Black, Gray and Photo Gray reduces bronzing while providing stronger ink adhesion to the print media, resulting in better scratch resistance without any additional protection. The iPF9100 incorporates the 12-color pigment ink system with LUCIA™ inks, the L-COA controller, along with an 80GB hard drive. The Canon L-COA processor, which is dedicated to the imagePROGRAF, is designed to optimize the best quality output at the highest possible speeds. Vivid, breathtaking, long-lasting prints are achieved by combining these advanced technological Canon achievements. Its built-in features put the power to produce at your fingertips. Designed for reliability, simplicity, and above all, quality, the iPF9100 is the professional's answer for superior quality prints. The new iPF9100 printer is equipped with the ability to recalibrate itself to the original factory settings and apply any necessary adjustments across the printer's media types. The result - a more predictable printing platform where results can be consistently achieved. The iPF9100 has opened a world of new possibilities with Canon's workflow solutions that simplify printer operation and expand the creative options for large-format photography and fine-art applications. Features:
12-Color Pigment Ink System - Canon's LUCIA pigment ink offers excellent color fastness and stability with a remarkably wide color gamut. LUCIA ink minimizes bronzing and graininess
Built-in Calibration - Equipped with a built-in calibration feature to help you consistently achieve superior results
Automatic Switching Between Black Inks - Utilizes automatic switching between Regular Black and Matte Black Ink, helping to eliminate wasted ink and time of swapping out ink tanks
Print Head System - Dual print head system with a total of 30,720 nozzles
Borderless Printing - 4-sided edge-to-edge printing, only with roll media
Efficiency & Speed - The iPF9100's built-in 80GB HDD processes jobs fast, maintains productivity and enables easy unmanned printing
Non-firing Detection and Compensation Function - When clogged or non-firing nozzles are detected, print head cleaning cycle is automatically executed. If the nozzle remains obstructed, the iPF9100 will automatically compensate by re-routing the ink to functioning nozzles
12-Color Pigment Ink System - New LUCIA inks
The iPF9100 printer's ink set is comprised of 12 colors: four standard process colors with Photo Cyan and Photo Magenta; plus Red, Green, Blue, Matte Black, Gray, and Photo Gray. This unique combination creates a broad color pallet and delivers exceptional print results. The iPF9100 printer's LUCIA ink is specially formulated to reduce graininess and bronzing and resist scratching and fading. Black, Matte Black, Gray and Photo Gray have been reformulated to optimize black ink density for exceptional monochrome photo-quality output. Based on the type of media being used, the iPF9100 printer automatically chooses the correct black ink to achieve the best print results.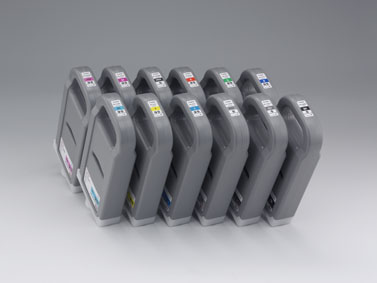 Built in 80GB Hard Drive
The hard drive storage space within the iPF9100 increases productivity by relieving workload from the host PC while providing a large capacity for print job data storage and retrieval. This 80GB hard drive enables job data to be stored in protected mail boxes for easy access and printing.
Built-in Calibration
The iPF9100 printer is equipped with the ability to recalibrate itself to the original optimal factory settings and apply any necessary adjustments across all the printer's media types. This creates a stable, predictable printing platform on which superior results can be consistently achieved. The system has built-in calibration sensors that accurately detect variation in print heads and measure the density levels of the inks and make necessary adjustments to return calibration to the original factory settings.
Dual Print Head System
Engineered for speed and advanced image production, the iPF9100 boasts Canon's dual print head system to lay down ink with unprecedented speed and accuracy. Unlike conventional printers with a single print head, the iPF9100 uses two high-precision, high-density print heads with a total of 30,720 nozzles. It lays down precise 4 picoliter-size ink droplets to produce sharp detail and excellent image quality. The superfine 4 picoliter-size droplets produce delicate color gradations and high-definition. The twin lines of nozzles for each color on the new print heads enable the iPF9100 to minimize the number of printing passes and still maintain print quality. The two 1-inch iPF series print heads each boast 6 colors with 2,560 nozzles per color. That's a total of 30,720 nozzles. More nozzles mean more ink is ejected with every pass of the print head, no matter what print mode or media. It gives new meaning to "high-speed output."
L-COA Controller - New Print Controller
Like other powerful Canon systems, the iPF9100 is built around the innovative L-COA (Large Format Printer Common Architecture) processor. When it comes to speed and accuracy, the L-COA processor is in a league of its own. By intelligently processing print data and directing the high-precision, high-density print heads to deposit ink, the system ensures image clarity and color accuracy, even for complex graphics and color-rich photographic images. Combined with Canon's dual print head design and the most ink nozzles per color in the industry, the L-COA controller helps achieve phenomenal print speeds.
Print Plug-in for Adobe® Photoshop® and Digital Photo Professional - An export print module
These export modules allow users to directly process and print RAW image files from DPP or Adobe Photoshop. These plug-ins are export modules that bypass the operating system's dependent print driver, allowing processing of 16-bit RGB images directly, which dramatically increases gradations and as a result, overall image quality.
New added features:
Full screen preview
More print quality selections
Categorized paper type view
Roll paper layout view
Bi-cubic enlargement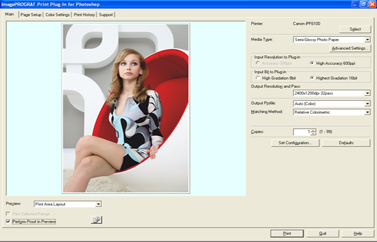 Printer Driver 2007
The imagePROGRAF printer driver works with both Windows® and Macintosh® operating systems offering exceptional, high-quality prints through easy usability and accurate color. The printer driver incorporates existing imagePROGRAF features along with new, easy-to-use functions. The monochrome photo mode produces neutral, high-quality monochrome images with the primary use of the Black, Gray and Photo Gray inks. This mode helps to ensure minimal shifts in color that are commonly caused by the use of color inks in black and white prints, thus outputting neutral tones with smooth gradation. Another easy-to-use feature is the free layout feature2, which allows for custom nesting of separate images and documents.
Features:
Web links (Support tab) - An html-based utility that provides access to websites through the printer driver
Categorized Media list - Media names are organized in a hierarchical tree structure
More detailed page preview - provides a clearer and more intuitive preview
Scan to Copy - imageRUNNER enlargement copy
14 preset document profiles (examples are Poster, CAD, Photo)
Automatic print quality options dependent on print application and media
Borderless printing
Saturation Adjustment
Easy Setting/Advanced Setting/Print Setting
Monochrome Photo Mode Support for Adobe RGB
Free Layout feature
Digital Photo Front-Access
Digital Photo Front-Access has been developed by Canon as a utility to import images from a camera, memory card, USB, etc. and incorporate them into software applications such as PosterArtist and Photoshop.
Auto image retouching
Ability to open in PosterArtist and Photoshop
Support for JPEG and RAW images
Simple configuration of print settings by means of the printer driver
PosterArtist 2007 (Optional Software) - Poster creation software
This template-driven software was developed by Canon specifically to create large-format posters with complete ease. PosterArtist helps users of all levels to create professional-looking posters, banners and signage in four easy steps. This application offers a variety of templates, hi-res royalty-free images and clipart designed to target a wide array of markets such as food service, education, offices, retail and much more.
PosterArtist 2007 allows users to use Kyuanos advanced color management system, providing a smart and simple way of managing colors under any viewing conditions. Also included in PosterArtist 2007 is the Auto Design feature in which the user can simply designate a few images to be in incorporated in a poster, and PosterArtist will automatically create professional-looking posters for immediate use. Also, the template filtering feature allows users to find and apply a template quickly and easily from hundreds of templates in the library.
Features:
Provides professionally-designed templates to simplify poster creation
Over 1GB of preloaded files in a wide variety of poster designs and artwork
Variable Data Printing
Page Capture feature allows users to load desired data from other applications into a PosterArtist poster, such as Microsoft® Word®, Excel®, and Adobe® Acrobat®
Import images directly from most digital cameras
PosterArtist QuickCopy - separate application with the ability to enlarge image data scanned with any CanoScan flatbed scanner.