Canon announces the new imagePROGRAF iPF9000S, 60" printer, a powerful print engine ideally built for professional print service providers who need to produce more output in less time. High speed throughput up to 403 ft/hr, an 80GB hard drive, borderless printing and other features, are seamlessly integrated into a single, exceptionally efficient production printing system engineered to produce more high quality work, at a lower cost and in less time. The new innovative 8 color LUCIA ink configuration helps increase print efficiency and creates dynamic colors and tones that are ideal for production graphics applications.
Speed without quality has little value, but with a built-in calibration feature and other advanced quality control functions such as the L-COA processor, the iPF9000S is built to deliver consistently superior results without sacrificing speed. This production grade printer is more than 40% faster than any other imagePROGRAF Graphic Arts printer making it ideal for anyone who needs to increase the reliability, durability and productivity of their large format printing services.
8 color LUCIA Ink technology
An innovative color configuration that further increases print efficiency by dispersing eight colors of ink across twelve ink channels of the two print heads for better ink coverage with each pass and greater productivity without sacrificing image quality. The iPF9000S features 8 colors of LUCIA ink (Cyan, Photo Cyan, Magenta, Photo Magenta, Yellow, Black, Matte Black and Gray) for a dynamic color gamut. The inclusion of Gray along side Photo Cyan and Photo Magenta helps to create smooth gradations and reduced graininess, creating a crisp monotone output.
Black, Matte Black and Gray help optimize black density regardless of media type to reproduce better gray tones for smoother transitions from white to black.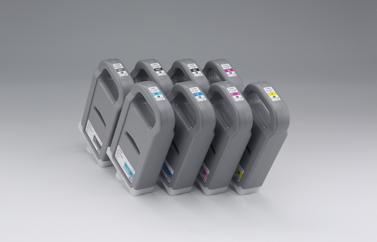 New Print Mode
The new Economy Print Mode produces 1200 x 1200 dpi output at 211ft/hr (2) on coated and uncoated paper stocks while reducing ink consumption by 10% to 20%. This new feature regulates the use of Photo Cyan and Photo Magenta inks to produce high quality output at a lower total cost.
The maximum printable length varies depending on the application, OS, and RIP used.
Built in 80GB Hard Drive
Increased hard drive storage space within the iPF9000S increases productivity by relieving workload from the host PC while providing a large capacity for print job data storage and retrieval. This 80GB hard drive enables job data to be stored in protected mail boxes for easy access and printing.
Built in Calibration
The iPF9000S printer is equipped with the ability to easily reset back to the original optimal factory settings and apply any necessary adjustments across all the printer's media types in just minutes. At the same times this creates a stable, predictable printing platform on which superior results can be consistently achieved. The system has built-in calibration sensors that help compensate for adverse environmental conditions while providing a predictable platform for color management and consistent color reproduction.
Print Head (PF-03)
Engineered for speed and advanced image production, the iPF9000S boasts Canon's dual print head system to lay down ink with unprecedented speed and accuracy. Unlike conventional printers with a single print head, the iPF9000S uses two high-precision, high density print heads with a total of 30,720 nozzles. It lays down precise 4 picoliter-size ink droplets to produce sharp detail and excellent image quality. An innovative ink channel configuration accelerates print efficiency by distributing the eight colors of ink reciprocally across the two print heads for better ink coverage with each pass.
Print Plug-in for Adobe® Photoshop® and Digital Photo Professional — An export print module
These export modules allow users to directly process and print RAW image files from DPP or Adobe Photoshop. These plug-ins are export modules that bypass the operating systems dependent print driver, allowing processing of 16-bit RGB images directly, which dramatically increases gradations and as a result, overall image quality.
New added Features:
Full screen preview
More print quality selections
Categorized paper type view
Roll paper layout view
Bi-cubic enlargement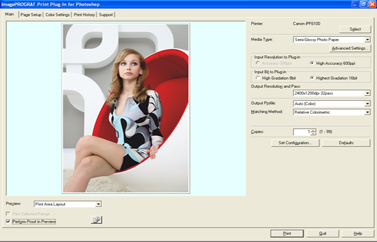 PosterArtist 2007 (Optional)
This template driven software was developed by Canon specifically to create large-format posters with complete quickly and easily. PosterArtist helps users of all levels to create professional looking posters, banners and signage in 4 easy steps. This application offers a variety of templates, hi-res royalty-free images and clipart designed to target a wide array of markets such as food service, education, offices, retail and much more.
PosterArtist 2007 allows users to use Kyuanos advanced color management system, providing a smart and simple way of managing colors under any viewing conditions. Also included in PosterArtist 2007 is the Auto Design feature in which the users can simply designate a few images to incorporate into a poster, and PosterArtist will automatically create professional - looking posters for immediate use. Also, the template filtering feature allows users to find and apply a template quickly and easily from hundreds of templates in the library. Features
Provides professionally designed templates to simplify poster creation
Over 1GB of preloaded files in a wide variety of poster designs and artwork
Auto Design
Variable Data Printing
Page Capture feature allows users to load desired data from other applications into a PosterArtist poster, such as Microsoft® Word®, Excel®, and Adobe® Acrobat®
Import images directly from most digital cameras